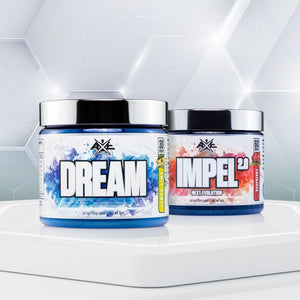 DREAM™ + IMPEL 2.0 PROMO OFFER
DREAM™ + IMPEL PROMO PACKAGE - LIMITED TIME ONLY.

DREAM™ by Axe Laboratories is a ground breaking sleep supplement unlike anything we have seen before.
Its cutting edge combination of natural yet powerful botanical compounds is showing results previously only seen in hard, organ damaging pharmaceutical medications.
The Importance of Good Sleep
Getting a good amount of sleep is incredibly important for your health. Sleep helps your body and brain function properly. A good night's sleep can improve your learning, memory, decision-making and even your creativity. What's more, getting sufficient sleep has been linked to a lower risk of heart disease, diabetes, stroke and obesity. Despite all these benefits, sleep quality and quantity are at an all-time low, and people increasingly suffer from poor sleep. Keep in mind that good sleep often starts with good sleep practices and habits. However, for some, that's not enough. If you require a little extra help to get a good night's sleep, DREAM could be the product for you.
Directions:
MIX ONE SCOOP (5G) MIX WITH 200ML OF WATER – 30 MINS BEFORE BED.


IMPEL has been forged with the objective to OVERCOME our busy daily schedules outweighing our abilities to OVERPOWER when it's needed most.
That moment in time, that hour, that minute, that rush. No turning back. Focus. Dominate. Impel. IMPEL has been researched, applied and formulated from the highest ingredients spanning the Earth. Brought to the surface to reach ones true full potential.

INFORMATION PROVIDED ON THIS WEBSITE IS NOT INTENDED TO BE TREATED AS MEDICAL ADVICE AND SHOULD NOT UNDER ANY CIRCUMSTANCES BE USED AS A SUBSTITUTE FOR A PROFESSIONAL DIAGNOSIS OR PROFESSIONAL MEDICAL TREATMENT OR ADVICE. CONSULT YOUR DOCTOR OR HEALTH PROFESSIONAL BEFORE COMMENCING ANY NEW NUTRITION OR SUPPLEMENTS.