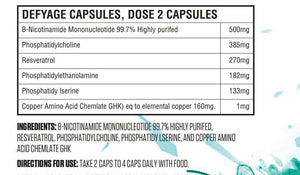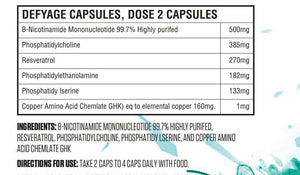 DEFYAGE
AXE LABORATORIES DEFYAGE IS AN EXTREMELY UNIQUE REVOLUTIONARY FORMULA DESIGNED USING THE LATEST IN SCIENTIFIC TECHNOLOGY AND RESEARCH. 
INGREDIENTS FORMULATED WITH ONLY THE MOST HIGH-END ELITE COMPOUNDS SOURCED FROM ALL OVER THE GLOBE.
NICOTINAMIDE-MONONUCLEOTIDE (NMN) IS A VITAMIN B3 DERIVATIVE. NMN IS A NATURALLY OCCURRING NUCLEOTIDE FOUND IN FRUITS AND VEGETABLES AND RESEARCH SUGGESTS INCREASES INTRACELLULAR NADH AND NAD+, AN ENERGY SUBSTRATE USED FOR THE CELLULAR RESPIRATION PROCESS. AS WE AGE, CELLULAR LEVELS OF NAD FALL AND STUDIES SHOW THE LEVELS REDUCE BY AS MUCH AS HALF BY MIDDLE AGE.
GLYCYL-HISTIDYL-LYSINE (GHK) IS A NATURAL COLLAGEN TRIPEPTIDE WHICH CHELATES COPPER AND IS SHOWN TO HAVE A RESTORATIVE ROLE IN THE HUMAN BODY. OUR COLLAGEN PEPTIDE GHK IS A NATURE IDENTICAL, VEGAN FRIENDLY, AND TRIPEPTIDE. STUDIES HAVE SHOWN NATURAL LEVELS OF GHK DECLINE WITH AGE WITH A NOTICEABLE DECLINE IN REGENERATIVE CAPACITY OF THE ORGANISM.
RESVERATROL IS A POLYPHENOL DERIVED FROM RED WINE AND LIKE MANY NUTRIENTS FROM FRUITS AND VEGETABLES, HAS BEEN SHOWN TO BE A POTENT ANTI-OXIDANT AND SOME RESEARCH SUGGESTS BENEFITS IN NORMALISING BODYWEIGHT.
PHOSHATIDYL- SERINE, CHOLINE AND ETHANOLAMINE ARE PHOSPHOLIPIDS WHICH FORM THE STRUCTURE OF CELLS (KNOWN AS THE PHOSPHOLIPID BY-LAYER).
BRINGING AXE LABORATORIES ONCE AGAIN TO THE FOREFRONT OF REVOLUTIONISING AN INDUSTRY.
RENEW.DEFINE.RESTORE.