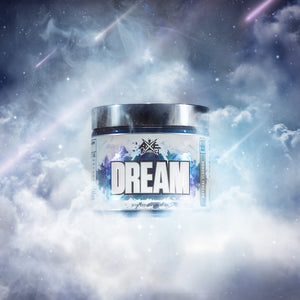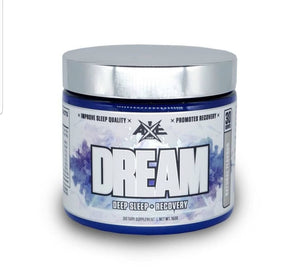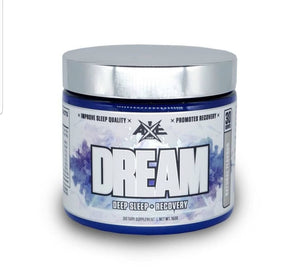 DREAM™ SLEEP FORMULA
✔️ Switches off a busy mind at night
✔️ Helps fall asleep faster and deeper
✔️ Feel recharged and refreshed in the morning
✔️ Boosts energy and focus throughout the day
✔️ No grogginess or drowsiness the next day

𝐷𝑅𝐸𝐴𝑀 𝑏𝑦 𝐴𝑥𝑒 𝐿𝑎𝑏𝑜𝑟𝑎𝑡𝑜𝑟𝑖𝑒𝑠 𝑖𝑠 𝑎 𝑔𝑟𝑜𝑢𝑛𝑑 𝑏𝑟𝑒𝑎𝑘𝑖𝑛𝑔 𝑠𝑙𝑒𝑒𝑝 𝑠𝑢𝑝𝑝𝑙𝑒𝑚𝑒𝑛𝑡 𝑢𝑛𝑙𝑖𝑘𝑒 𝑎𝑛𝑦𝑡ℎ𝑖𝑛𝑔 𝑤𝑒 ℎ𝑎𝑣𝑒 𝑠𝑒𝑒𝑛 𝑏𝑒𝑓𝑜𝑟𝑒.
𝐼𝑡'𝑠 𝑐𝑢𝑡𝑡𝑖𝑛𝑔 𝑒𝑑𝑔𝑒 𝑐𝑜𝑚𝑏𝑖𝑛𝑎𝑡𝑖𝑜𝑛 𝑜𝑓 𝑛𝑎𝑡𝑢𝑟𝑎𝑙 𝑦𝑒𝑡 𝑝𝑜𝑤𝑒𝑟𝑓𝑢𝑙 𝑏𝑜𝑡𝑎𝑛𝑖𝑐𝑎𝑙 𝑐𝑜𝑚𝑝𝑜𝑢𝑛𝑑𝑠 𝑖𝑠 𝑠ℎ𝑜𝑤𝑖𝑛𝑔 𝑟𝑒𝑠𝑢𝑙𝑡𝑠 𝑝𝑟𝑒𝑣𝑖𝑜𝑢𝑠𝑙𝑦 𝑜𝑛𝑙𝑦 𝑠𝑒𝑒𝑛 𝑖𝑛 ℎ𝑎𝑟𝑑, 𝑜𝑟𝑔𝑎𝑛 𝑑𝑎𝑚𝑎𝑔𝑖𝑛𝑔 𝑝ℎ𝑎𝑟𝑚𝑎𝑐𝑒𝑢𝑡𝑖𝑐𝑎𝑙 𝑚𝑒𝑑𝑖𝑐𝑎𝑡𝑖𝑜𝑛𝑠.
𝑇ℎ𝑒 𝐼𝑚𝑝𝑜𝑟𝑡𝑎𝑛𝑐𝑒 𝑜𝑓 𝑔𝑒𝑡𝑡𝑖𝑛𝑔 𝑎 𝑔𝑜𝑜𝑑 𝑎𝑚𝑜𝑢𝑛𝑡 𝑜𝑓 𝑠𝑙𝑒𝑒𝑝 𝑖𝑠 𝑖𝑛𝑐𝑟𝑒𝑑𝑖𝑏𝑙𝑦 𝑖𝑚𝑝𝑜𝑟𝑡𝑎𝑛𝑡 𝑓𝑜𝑟 𝑦𝑜𝑢𝑟 ℎ𝑒𝑎𝑙𝑡ℎ. 𝑆𝑙𝑒𝑒𝑝 ℎ𝑒𝑙𝑝𝑠 𝑦𝑜𝑢𝑟 𝑏𝑜𝑑𝑦 𝑎𝑛𝑑 𝑏𝑟𝑎𝑖𝑛 𝑓𝑢𝑛𝑐𝑡𝑖𝑜𝑛 𝑝𝑟𝑜𝑝𝑒𝑟𝑙𝑦.
𝐴 𝑔𝑜𝑜𝑑 𝑛𝑖𝑔ℎ𝑡'𝑠 𝑠𝑙𝑒𝑒𝑝 𝑐𝑎𝑛 𝑖𝑚𝑝𝑟𝑜𝑣𝑒 𝑦𝑜𝑢𝑟 𝑙𝑒𝑎𝑟𝑛𝑖𝑛𝑔, 𝑚𝑒𝑚𝑜𝑟𝑦, 𝑑𝑒𝑐𝑖𝑠𝑖𝑜𝑛-𝑚𝑎𝑘𝑖𝑛𝑔 𝑎𝑛𝑑 𝑒𝑣𝑒𝑛 𝑦𝑜𝑢𝑟 𝑐𝑟𝑒𝑎𝑡𝑖𝑣𝑖𝑡𝑦. 𝑊ℎ𝑎𝑡'𝑠 𝑚𝑜𝑟𝑒, 𝑔𝑒𝑡𝑡𝑖𝑛𝑔 𝑠𝑢𝑓𝑓𝑖𝑐𝑖𝑒𝑛𝑡 𝑠𝑙𝑒𝑒𝑝 ℎ𝑎𝑠 𝑏𝑒𝑒𝑛 𝑙𝑖𝑛𝑘𝑒𝑑 𝑡𝑜 𝑎 𝑙𝑜𝑤𝑒𝑟 𝑟𝑖𝑠𝑘 𝑜𝑓 ℎ𝑒𝑎𝑟𝑡 𝑑𝑖𝑠𝑒𝑎𝑠𝑒, 𝑑𝑖𝑎𝑏𝑒𝑡𝑒𝑠, 𝑠𝑡𝑟𝑜𝑘𝑒 𝑎𝑛𝑑 𝑜𝑏𝑒𝑠𝑖𝑡𝑦. 𝐷𝑒𝑠𝑝𝑖𝑡𝑒 𝑎𝑙𝑙 𝑡ℎ𝑒𝑠𝑒 𝑏𝑒𝑛𝑒𝑓𝑖𝑡𝑠, 𝑠𝑙𝑒𝑒𝑝 𝑞𝑢𝑎𝑙𝑖𝑡𝑦 𝑎𝑛𝑑 𝑞𝑢𝑎𝑛𝑡𝑖𝑡𝑦 𝑎𝑟𝑒 𝑎𝑡 𝑎𝑛 𝑎𝑙𝑙-𝑡𝑖𝑚𝑒 𝑙𝑜𝑤, 𝑎𝑛𝑑 𝑝𝑒𝑜𝑝𝑙𝑒 𝑖𝑛𝑐𝑟𝑒𝑎𝑠𝑖𝑛𝑔𝑙𝑦 𝑠𝑢𝑓𝑓𝑒𝑟 𝑓𝑟𝑜𝑚 𝑝𝑜𝑜𝑟 𝑠𝑙𝑒𝑒𝑝.
𝐼𝑓 𝑦𝑜𝑢 𝑟𝑒𝑞𝑢𝑖𝑟𝑒 𝑎 𝑙𝑖𝑡𝑡𝑙𝑒 𝑒𝑥𝑡𝑟𝑎 ℎ𝑒𝑙𝑝 𝑡𝑜 𝑔𝑒𝑡 𝑎 𝑔𝑜𝑜𝑑 𝑛𝑖𝑔ℎ𝑡'𝑠 𝑠𝑙𝑒𝑒𝑝, 𝐷𝑅𝐸𝐴𝑀 𝑐𝑜𝑢𝑙𝑑 𝑏𝑒 𝑡ℎ𝑒 𝑝𝑟𝑜𝑑𝑢𝑐𝑡 𝑓𝑜𝑟 𝑦𝑜𝑢.
 INFORMATION PROVIDED ON THIS WEBSITE IS NOT INTENDED TO BE TREATED AS MEDICAL ADVICE AND SHOULD NOT UNDER ANY CIRCUMSTANCES BE USED AS A SUBSTITUTE FOR A PROFESSIONAL DIAGNOSIS OR PROFESSIONAL MEDICAL TREATMENT OR ADVICE. CONSULT YOUR DOCTOR OR HEALTH PROFESSIONAL BEFORE COMMENCING ANY NEW NUTRITION OR SUPPLEMENTS.