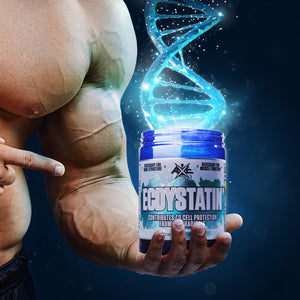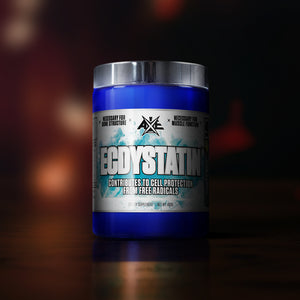 ECDYSTATIN
Continuing the Revolution...
A product in a class of it's own. The proven effects of Ecdysterone, synthetically derived to produced 450mg of actual active ingredient per serve, plus scientifically backed new tech Myostatin Inhibitors, driven by vanilla malt transport. By far the most anabolic legal natural product on the market.
"An anabolic activity of ecdysterone was clearly confirmed by our investigation. The anabolic potency of the ecdysterone was comparable or even higher as found for the anabolic androgenic steroids, SARMs or IGF-1. Moreover in-silico docking experiments support the postulated non-androgenic mechanism of ecdysterone. More likely and in agreement to the experimental data anabolic activity of ecdysterone is mediated via binding to the ER particularly ER beta."

Pushing the Evolution,
Join the Revolution.
INFORMATION PROVIDED ON THIS WEBSITE IS NOT INTENDED TO BE TREATED AS MEDICAL ADVICE AND SHOULD NOT UNDER ANY CIRCUMSTANCES BE USED AS A SUBSTITUTE FOR A PROFESSIONAL DIAGNOSIS OR PROFESSIONAL MEDICAL TREATMENT OR ADVICE. CONSULT YOUR DOCTOR OR HEALTH PROFESSIONAL BEFORE COMMENCING ANY NEW NUTRITION OR SUPPLEMENTS.