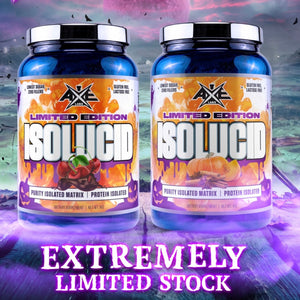 LIMITED EDITION "HALLOWEEN" ISOLUCID 🎃
After all these years, it was finally time. Time to release a pure protein. Isolated Purity. Pure to quality, pure to label, pure to taste. 
No Fillers. No Binders. No Additives. No Fillers. No Cutting Agents. Lowest Possible Carbs. Highest Possible Pure Isolated Protein.
The other companies are lying to you. Their labels are not pure, their labels are not true. 
The purest protein on earth.
Axe Laboratories ISOLUCID WPI available in 10 delicious flavours.
AVAILABLE NOW.