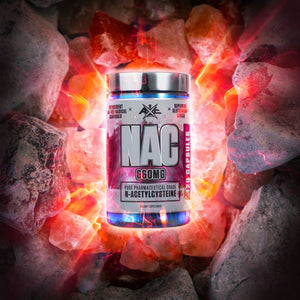 NAC (MULTIPLE UNIT DISCOUNTS LISTED BELOW)
NAC (MULTIPLE UNIT DISCOUNTS LISTED BELOW) 


Made in Australia.
AXE LABORATORIES NAC comes from the amino acid L-cysteine and is a powerful antioxidant. It is a precursor of glutathione, one of the most important antioxidant enzymes in the body. NAC is thought to be superior to glutathione supplements as it is in a more bioavailable form and does not break down during digestion. Research now suggests that NAC has a direct effect to chelate heavy metals and has been shown to independently scavenge oxidative free radicals. Its' anti-inflammatory properties and protective effect on neurons means that it can be an effective treatment with regards to the management of stress, detoxification and mental health.
NAC is 100% pure pharmaceutical grade N-Acetylcysteine.
Protect. Heal. Excel.
3 x Tubs for $150.00


INFORMATION PROVIDED ON THIS WEBSITE IS NOT INTENDED TO BE TREATED AS MEDICAL ADVICE AND SHOULD NOT UNDER ANY CIRCUMSTANCES BE USED AS A SUBSTITUTE FOR A PROFESSIONAL DIAGNOSIS OR PROFESSIONAL MEDICAL TREATMENT OR ADVICE. CONSULT YOUR DOCTOR OR HEALTH PROFESSIONAL BEFORE COMMENCING ANY NEW NUTRITION OR SUPPLEMENTS.